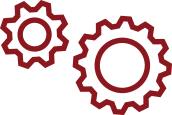 We are heading into the fourth industrial revolution, Industry 4.0. Factories are being digitized to become more production-efficient, flexible and competitive. Automation is the future and we are driving that development.
We offer you complete solutions ranging from Pilot studies to Consultation for Electrical and Automation projects, integrating design, software, hardware, production, installation, commissioning and service.
One of our core speciality is to help you upgrade your obsolete/ outdated control systems as a competitive solution.
Automation brings several benefits such as efficient production , flexible processes, competitive products, lower manpower cost and maintains higher quality.
Do you want to follow the development towards a smart and sustainable industry?
We are happy to help you achieve your goals.
Programming
PLC
SCADA and HMI
Servo and Motion
Vision system
C#, C++, SQL etc.
Robot programming
Bus communication
We have expertise in various control systems and brands such as:
Siemens
Rockwell
ABB
Mitsubishi
Schneider
Beijer