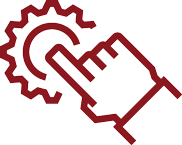 COMMISSIONING, SERVICE OCH AFTER SALES
An important part of the project is commissioning. Our experienced Commissioning Engineers commission the systems according to industry standards and then test as per protocols set for each functionality and device, after fine tuning of the system for optimal performance they hand it over to the customer with necessary documentation for future reference.
In order to provide our customers with a reliable after sales solution we offer support service and preventive maintenance work. To ensure future functionality and production, we also provide customer service solutions and are available to take care of emergencies or machine breakdowns at facilities anywhere in the world.
We also provide spare parts to ensure continued operation. Thanks to our complete solution capability to deliver from design to commissioning and service as well. We know that we deliver high quality and It is important for us, and for you.
Having many years of experience in various industries and machines, we also undertake installation and commissioning assignments for facilities and systems supplied by third parties.